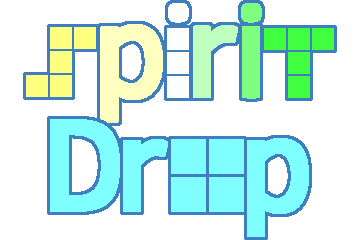 Download v0.1.1.10! - August 15, 2021
Windows 64-bit (158 MB, recommended) Main Download, Mirror
Windows 32-bit (136 MB, for when 64-bit doesn't work) Main Download, Mirror
Channel your stacking power in a game with a seemingly infinite skill ceiling! With emphasis on control and self-improvement, there's always hidden potential waiting inside.
Spirit Drop is a block-stacking puzzle game developed by Aaron Griffin. It began in the middle of 2018 as a prototype used to learn mechanics of and train in other block stacking games. On May 3rd, 2020, the prototype of the game was recreated using a realtime engine, with the addition of multiplayer functionality and leaderboards.
All-spin detection
Versus battles are Back-to-Back oriented; build a multiplier with certain line clears (if the multiplier is high enough, you won't lose it all at once)
The concept of frames do not exist in the code, inputs are read from operating system events and the logic is deterministic
Many anti-frustration features

A permissive rotation system
Full input buffer
Complete customization of controls, can use soft and sonic drop
Buffered sonic drop tucks
Sonic Drop Ghost during spawn delay
Doesn't rotate? Try something else!
Prevention of held pieces that top out
Various functional visuals to show your limits
The roadmap can be viewed in the game for plans on successive versions. Development will alternate on focus between singleplayer and multiplayer. Singleplayer versions will be considered "Acts," letting you dive deeper into the many modes the game will offer. The multiplayer side is currently powered by Photon, and it will support lobbies with up to 999 players/AI (offline, some players have already achieved viable battles with 5000+ AI).
Jump into the Discord server to share your experience!
Got feedback? Let me know!
Unity © 2021 Unity Technologies, Photon Engine © 2021 Exit Games
Music by:
Aaron Griffin
Alice Mako, Aztech, Azuleux, dedsh4d, JauqGames, Kreyowitz, L-E-U-R-O, NahuPyrope, NervousNoob, and Tyson R Prince on Newgrounds
ExileLord
Discord - RayRay26#6142
Click here for RayRay's YouTube channel
Twitter - @gamemakeraray